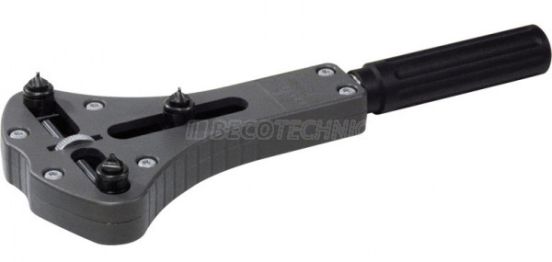 Bergeon Case Opener Jaxa, for Large Cases 210550
En existencias
Se envía inmediatamente todos los días de la semana si se realiza el pedido antes de las 15:00
¡Producto añadido al carrito!
Details
The Jaxa key was developed to open large housings. Its ergonomic shape ensures comfortable handling.
Suitable for housings with Ø 18 - 62 mm
4 inserts for housings with edges, notches, holes and grooves
Including flexible ruler
Supplied in a practical plastic box
Distribuidor oficial
Somos el distribuidor oficial de esta marca. Te garantizamos la seguridad de que este reloj es original y que dispone de su servicio oficial con garantía internacional.
La descripción de producto ha sido creada específicamente por Justoatiempo.es y este contenido no debe ser copiado o modificado. La violación de esta claúsula puede requerir compensación.
Reseñas
Escribir Su propia reseña
Envíos
Envíos estándar - 5-10 días laborables
Este método tendrá un coste 0€ para los pedidos mayores de 199€ y 7€ para los pedidos menores de 199€.
Envíos urgentes con número de seguimiento - 1-4 días laborables
Este es el método de envío más rápido y cuesta 5€ para los pedidos mayores de 199€ y 9€ para los pedidos por debajo de 199€.
Más Información
Más Información

| | |
| --- | --- |
| Código (SKU) | 210550 |
| EAN | 4022739333699 |
| Marcas | Beco |
Guía de tallas

¿Cómo medir la talla de un reloj?
El diámetro
El término común es el diámetro pero ya que no todos los relojes tienen carcasa circular, el diámetro realmente es el ancho medido de izquierda a derecha. Ten en cuenta que algunos fabricantes incluyen la corona (para ajustar el reloj) y los botones cuando midas el ancho, pero intentamos estandarizar todos los relojes sin incluir la corona como parte del ancho.



Grosor de la carcasa
El grosor de la carcasa - o alto del reloj desde el perfil - se indica midiendo el reloj de arriba hacia abajo como se ilustra más abajo. Comparando, el grosor de una moneda de un euro es de 2.33 milímetros.
Normalmente difinimos el reloj según estas medidas:
Slim: 4-6 milímetros
Normal: 6-12 milímetros
Grande: 12-14 milímetros
Oversize: 14-18 milímetros
Herramientas y mantenimiento